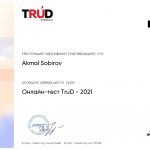 More than 170 students from India, Palestine, Nigeria, Kenya, Ghana, Morocco, Yemen, Syria, Iraq, Jordan, Egypt, Afghanistan, Azerbaijan, Ukraine, Georgia, Tajikistan, Uzbekistan, Iran and Vietnam tested their knowledge of the Russian language and became participants of the international action.
The annual educational campaign "Total Dictation", which has been in existence since March 2004, attracts more and more people who want to take part in it every year. Since 2016, the project has expanded, and a new direction has appeared in it – the "TruD" test, created for those who study Russian as a foreign language. The main goal of the organizers is " ... to show that being literate is important for every person. Convince them that learning Russian is not easy, but it is exciting and useful. Unite all those who can or want to write and speak Russian."
This year, foreign students of the Volgograd State Medical University decided to participate in such an interesting event, to test their level of Russian language proficiency, perhaps to learn something new or to make sure of their literacy.
Everyone had the opportunity to take a special free course on preparing for the "TruD" test for one and a half months. On April 10, students have already begun to answer a dozen interesting and informative tasks developed by experts on the basis of the original text of total dictation. Recall that this year we wrote the "TruD" test in an online format, each of the participants had one attempt, so we had to get together, use all our knowledge, be careful and attentive.
The leaders of this year were:
Ashour Eiass Salam, 2nd year, Group 15, Faculty of Dentistry (Palestine);
Etum Husam Nabil Hassan, 1st year, Group 25, Faculty of Medicine (Jordan);
Naik Lipsa, 3rd year, group 35, Faculty of Medicine (India);
Al-Mamuri Ali Abdulrazzak Wahhab, 3rd year, group 35, Faculty of Medicine (Iraq);
Anaman Rukmini, 3rd year, group 28, Faculty of Medicine (Ghana);
Shukhrat Abdullayev, 2nd year, group 14, Faculty of Dentistry (Uzbekistan);
Ismail Rawan Wahib Mohammed, 4th year, group 28, Faculty of Medicine (Yemen);
Akmal Sobirov, 2nd year, group 32, Medical Faculty (Uzbekistan);
Ismail Harun Shaikh, 4th year, 33rd group, Faculty of Medicine (India);
Olga Abdurakhmanova, 4th year, group 30, Faculty of Medicine (Georgia);
Alhazaimeh Mohammad Zakaria, 4th year, 26th group, Faculty of Medicine (Jordan)
Al Shawawreh Ahmad Baqer Khalid, 4th year, group 28, Faculty of Medicine (Jordan).
All other participants showed quite high results, including: 15% scored 50 points, 60% received from 75-90 points, 15% - 91-99 points, 10% - 100.
We are happy for students and proud that they are interested in the Russian language and culture of Russia. According to them: "It was an interesting experience", "We really liked it, because we were able to participate in the international promotion", "For the first time we showed good results, but I would like to try to improve my scores next year". Teachers of the Department of Russian Language and Socio-Cultural Adaptation will be happy to help all foreign students become even better, more literate and attentive next year.
Thank you to all the participants for their honesty, interest and respect for the Russian language. Stay always so curious, active and capable. Continue to develop your knowledge and skills!
E.A. Chigrinova, Lecturer of the Department of Russian Language and Socio-Cultural Adaptation