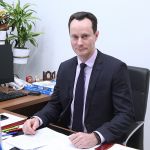 Founded in 1935, Volgograd State Medical University is among the 10 best medical universities in Russia with a long tradition of training doctors.
In 2020 the University is celebrating its 85th Anniversary. Our Professors are well-known not only in Russia, but in the whole world due to their significant contribution to the development of practical and functional medicine.
Since 1962 international students have studied at our University. Today more than 4500 specialists with VSMU degrees work in 127 countries of the world.
Among our famous alumnis are: Dr. Jiri Mashtalka, Member of the European Parliament; Prof. Tolno Sandy Kola, Chief Cardiologist of the Ministry of Health of Guinea, Representative of Guinea to the WHO; Dr. Najirul Amin, Member of the Tamil Nadu State Parliament in India; and Dr. Calvin, Member of the Sarawak State Parliament in Malaysia.
The surgeon Anatoly Konevsky was our first graduate to bring the University worldwide fame. He invented a fundamentally new neurophysiological method in the field of organ transplants.
The VSMU Pharmacological Scientific School is also well-known all over the world. Our Professors have made a significant contribution to the creation of a number of well-known medicines.
In recent years, VSMU scholars and scientists have created new and innovative exoskeletons, including EXZAR-34 - the first Russian system providing a passive exoskeleton for the upper limbs, and a new lower jaw exoskeleton of the lower jaw which has been certified among the "100 best inventions of Russia". We have also developed a multifunctional individual protection system called "Venets 34", which is designed to increase efficiency in the filtration of polluted air.
If you want to build your future in the medical field, you have the opportunity to master the necessary professional skills with us, and work to further our University's long tradition of deep inquiry and scientific excellence, whilst serving the noble cause of people's health.
We would be delighted to welcome you!
Vladimir V. Shkarin Chancellor