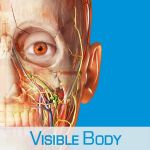 At the beginning of the academic year, Ovid traditionally opens test access to the Visible Body Atlas of Human Anatomy. This is the most accurate 3D Atlas of the anatomy of male and female organisms. It was created by highly qualified specialists with experience in the field of anatomical visualization, and has been tested by professional doctors and anatomists.
3D Atlas of Human Anatomy Visible Body is an application for teaching human anatomy in English. It allows users to visually and interactively study the human body. The application covers models of female and male anatomy: each has more than 4,600 anatomical structures. Interactive programs for three-dimensional modeling of human anatomy cover the anatomy, physiology, muscles, skeleton, and circulatory system using interactive 3D models, animation, tests, and augmented reality. The resource also includes:
3D models of microscopic anatomy, including eye, ear, skin, and tongue structures;
3D animations: instructional videos for patients describe common diseases such as heart failure, digestive disorders, and tissue repair;
more than 1200 control questions;
encyclopedic reference information: the name of structures, their Latin terms and classification by anatomical groups, detailed definitions, and descriptions of common injuries, diseases, and pathologies.
The user interface is multi-functional and easy to use. You can choose from popular images and create your own images. There is a convenient anatomical app for iPad from iMedicalApps.
Link for test access: https://tools.ovid.com/trial/vb-russia /.
Open access is available on the local network until November 28, 2020. You can install a mobile app and work with the Atlas remotely. You can get instructions on installing and activating the Visible Body app by clicking on the link.
L. G. Borisova, Head of the library process automation Department