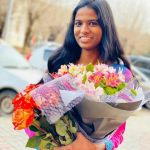 The names of the winners of the all-Russian competition"World without borders" became known. The competition itself was held in October at the Orenburg State Medical University. The jury was presented video stories in Russian language about the national cuisine, national clothing and beauty of the native land.
The contestants' works were evaluated according to the following criteria: completeness of the topic disclosure, originality of the material presentation, speech literacy (compliance with the norms of the Russian language) and quality of performance.
The winners are:
Jadhav Disha Hareshwar (a 6th year student of medical faculty) – 1st place in the category "traditional clothes"
Vijayakumar Charli Aswathi (student of the 5th course of medical faculty) – 2nd place in the category "traditional clothes"
Masadi Kalyani Manikrao and Sonawane Juhi (4th year students of medical faculty) – 2 place in a nomination "Beauty of the native land»
Jadhav Disha Hareshwar presented a colorful story about one of the most famous types of sarees in India – sarees "Paithani". Disha shared her impressions and said words of gratitude: "First of all, I would like to thank the teachers of the Department of Russian language and socio-cultural adaptation for inviting me to participate in this competition. The contest was really interesting! It is a great honor and pleasure for me to tell you about our national dress – sari. This is my favorite outfit! I never miss an opportunity to show off my national costume whenever I have the opportunity. In a sari, a woman looks beautiful and elegant. And it's also part of our culture and tradition. I am very happy that I participated, that everyone liked my work. I look forward to new contests and competitions."
Masadi Kalyani Manikrao admitted that she is very interested in all the events held by our University: "Such competitions are very important for personal development. Creative competitions and educational events help us in our studies, especially in learning the Russian language, and at the same time, it is an opportunity to learn more about other countries and traditions, and strengthen friendly ties."
We congratulate the students on their victory! We wish them further success in their studies and creativity!
D. V. Panchenko, teacher of the Department of
Russian language and socio-cultural adaptation
Photos provided by contest participants