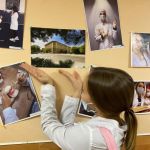 Volgograd State Medical University will release souvenirs dedicated to the Hero-city Volgograd and its attractions and iconic places. The originality of the creative project will betray the fact that the photos that will be used to create calendars, postcards and other printed products will be made by foreign students. For this purpose, the University announced the photo contest "Volgograd through the eyes of foreigners".
"We can see our favorite city from a completely unexpected side. After all, every day walking along the streets and avenues of Volgograd, local residents usually do not notice its unique identity. In any case, the project will allow us to look at our city in a new way," said Natalia Alshuk, Vice-rector for work with foreign students and international relations of the Volgograd State Medical University.
The best photos will be selected by famous Volgograd residents and photographers from Russia and abroad. It is already known that the jury will include French independent photographer and reporter Arnaud Baine, Volgograd TV Director, honored worker of culture of the Russian Federation Alexey Basov, Volgograd photographer Witold Yarmakovich, and the jury will be headed by Professor Alexander Vorobyov of the Volgograd State Medical University.
Souvenir products which are planned to be produced in the new year at the University, were decided to devote to the 60th anniversary of the work of VSMU with foreign students. Currently, 1.5 thousand foreign students study at the VolSMU. In total, the University has trained almost 5 thousand doctors who successfully work in different countries of the world.