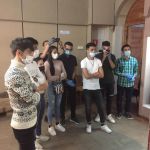 Foreign students of the 1st year of medical and dental faculty from Egypt, Jordan, Iraq, Yemen, Costa Rica, Syria and Ecuador were happy to plunge into the history of Tsaritsyn, the city where they will study for the next 5 years.
Observing strict restrictions, taking gloves and masks, students for the first time crossed the threshold of the Volgograd regional Museum of local lore. The guide took the students to the chambers of the Tsaritsyn merchant, where they began to get acquainted with life of his family.
Students saw authentic Museum exhibits that allowed them to imagine the decoration of the rooms of the beginning of the XX century: a heavy carved cabinet, a large mirror, a huge table in the center of the room covered with an embroidered tablecloth, and strange musical instruments. They were lucky enough not only to see, but even to listen to the ancient piano and harmonium playing. Students got acquainted with Tchaikovsky's "Seasons" and were fascinated by the music that flows from the harmonium, which, it turns out, plays only when you simultaneously press its keys and pedals. The students learned that musical instruments were considered a luxury item and a sign of refined taste of its owner, it was interesting to listen to, went to Tsaritsyn as guests were seated at the table of guests, passed from generation to generation porcelain sets than treated them, and how can you distinguish welcome from unwelcome.
They were very impressed with the old samovar. Foreign students had only heard about such a "miracle" before. The guide told how they used to pack and brew tea, that tea in Tsaritsyn was an expensive treat, and therefore dried fruits, berries and herbs were added to it. We especially liked to add sweet thyme, which grows in our area. The guide added, thyme has medicinal properties, so this supplement was not only original, but also useful. Students were able to see in the halls of the museum ancient household items of Tsaritsyn residents, clothes, dishes, an old loom, learn about the crafts of our region, touch leather products, bast.
We hope that our cooperation with The Regional Museum of Local Lore will continue and foreign students of our University will be happy to visit the Museum's new exhibitions.

A. N. Statsenko, Russian language and socio-cultural adaptation Department's senior lecturer
O. V. Samokhina, Russian language and socio-cultural adaptation Department's teacher
Photos provided by the authors